Make the Process Repeatable
A key goal of the services we provide is to make your marketing and sales processes repeatable. By carefully crafting plans that contain clearly defined programs, we help streamline the marketing process and eliminate wasted time and cost. By putting repeatable processes in place the results become predictable. Changes that need to be made along the way are easier to implement - and have less impact on the process and increase the programs effectiveness.


Our Product, levelone is a comprehensive and fully automated cloud based Lead Generation Program that takes prospecting to a new level. Utilizing a proven marketing strategy called TOMA (Top of Mind Awareness) our consistent and courteous contacts to your prospects will make your company a major player in the market.
Our unique LiveStats Technology allows you to instantly see who is reading your email. You see when they opened it and if they opened it multiple times and where they "clicked thru". Instantly see the effectiveness of your marketing campaign and the traffic to your custom built landing page - all in real time.
We do all the heavy lifting for you:
• We develop all the email content
• No templates to fool with
• We build a custom landing page for you
• We include a Client Relationship Management system
• We include a Campaign Tracking System
• We send alerts to your smart phone


Part of the branding process is quality print work. At levelone, we understand the importance of quality printing, customer service and of course price. We have the capabilities and expertise to meet and exceed your expectations.

That means you will spend less time waiting around for your documents to be printed and you will have access to the materials you need faster. This frees up your company staff members so that they can focus on other projects that will benefit the company instead of having to spend most of their time at the copy machine. And of course, we guarantee every order to your satisfaction.

Some of the most popular items we offer: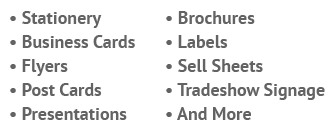 Our in-house built CRM is cloud based. No software to load or maintain - just log in via an internet connection. Track your marketing campaigns, and stay in-touch with your clients and prospects.
levelone CRM tracks all the data gathered from your marketing campaigns. Just log in via an internet connection and you have current results such as who opened your email, where they clicked on the landing page and even what information they downloaded right at your fingertips.
Our simple to use contact management feature allows you to add and update contacts to your lists. Set reminders and post notes so the next time you contact your prospect you will have up to date information at your finger tips.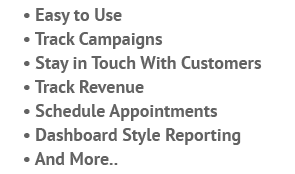 A key ingredient to expanding your business reach is to leverage the web. Your website may be your customer or prospects first impression of your business - make that impression count. A web presence can be a significant factor in your plan for future growth.

Even if you already have a web presence, we can show you new techniques to be more effective. If this is your initial entry to building a website or it's time for an update to your site, levelone is the right choice.
Just some of the services we offer: